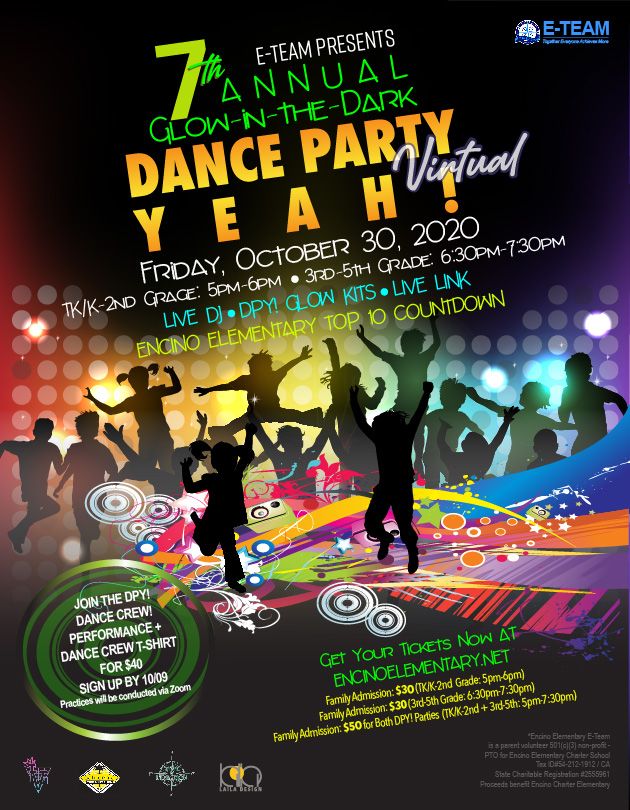 7th Annual (Virtual) DANCE PARTY YEAH!!!
It's that time again! And this year, we need a dance party like never before!
Join us on Friday, October 30th - right in the comfort of your own Dancing-Ready Home! As in past years, this is not a "drop-off" event. Appropriate online behavior is expected, and adult supervision is required.
There are 2 separate dancing sessions this year...
TK - 2nd 5:00pm - 6:00pm

3rd - 5th 6:30pm - 7:30pm
Want the best DPY! experience possible? Order a Glow Basket (which includes family admission to BOTH Zoom Sessions and lots of fun goodies - including GLOW cotton candy!). SALES FOR BASKETS, BAGS & OTHER ADD-ON GOODIES CLOSE TONIGHT!

Virtual Dance Party? How does that work?
Included with your "ticket" purchase...
Zoom link for family admission to attend the party - we'll have a Live DJ spinning our Top Ten and more!

link to fill out your Top 10 song vote - totally free!

chance to dance with your classmates and teachers!
Additionally, you can purchase Fun Extras (We couldn't forget the GLOW ITEMS! We know how much our kids love this part of dance party, and we are going to deliver!)
DPY! Small Glow Bag (assorted glow items, small disco light, glow cups, two cotton candies) 
DPY! Large Glow Basket: (assorted glow items, glow cups, CPK kids meal vouchers, surprise beverage, large disco light, two GLOW cotton candies, and includes family admission to the party) 

Dance Party YEAH! Youth T-shirts

GLOW Cotton Candy (great to add on to a basket)

 
Check them out before you check out!
Dates to remember:
Glow Bag & Basket Sales and Glow Cotton Candy sales close 10/23 at 10pm

Family ticket sales close 10/28 at 10pm
A note on technology and behavior expectations...
The DPY! committee will do our best with the connectivity of the dance party.  We appreciate your patience with all things tech related.

Appropriate behavior by all attendees is required; the DPY! committee will remove attendees if there are any inappropriate behaviors displayed - no exceptions. 
And as in past years, this is an E-Team sponsored event, so all proceeds raised will support the school and our children!