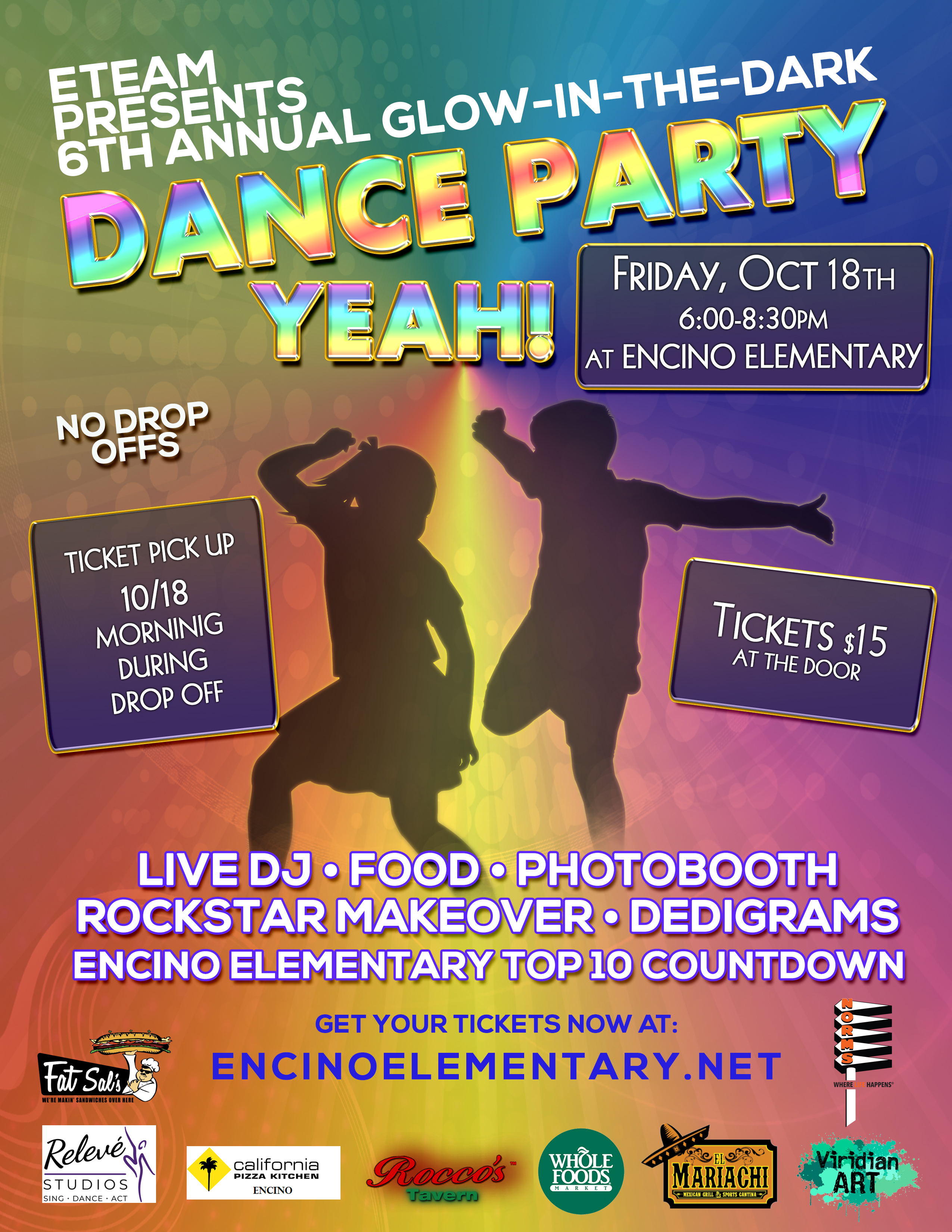 DANCE PARTY YEAH!
6th Annual - Dance Party Yeah!
Friday, October 11th, 6pm - 8:30pm
Encino Charter Elementary
under the covered "Dance" Pavilion, Rain or Shine!
Tickets are $15 at the door
WE NEED PARENT VOLUNTEERS TO MAKE THIS EVENT A SUCCESS - PLEASE SIGN UP HERE
 
Ready to kick-off the school year with the most outrageous party of the year?!
There's plenty of space on the dance floor, so feel free to bring your family and friends to join you as guests.  

This is an E-Team sponsored event, so all proceeds raised will support the school and our children!  
What's at Dance Party Yeah! this year...
 
Rockstar Makeovers!   Get some rockin' hair, makeup and tattoos to show-off your dance moves in style!  Rockstar makeovers will be a ticketed experience you can purchase at Dance Party Yeah! 
 
ECES Top 10 Countdown!  (Dedigram info listed below) - Dedicate a song to a friend or teacher and give them a glow ring. All the Dedigrams will be counted for the Top 10 Countdown of Encino Elementary which will play throughout the night, leading to the #1 song of Encino Elementary!  
Glow Art Room!  Come and experience the awesome glow-in-the-dark room!  You create fun glowing designs that really pop in the dark!
 
Food and desserts will be available for purchase throughout the night. 

*Please note, this is not a drop-off event, and all music will have clean-lyric versions.