Turkey Trot 2023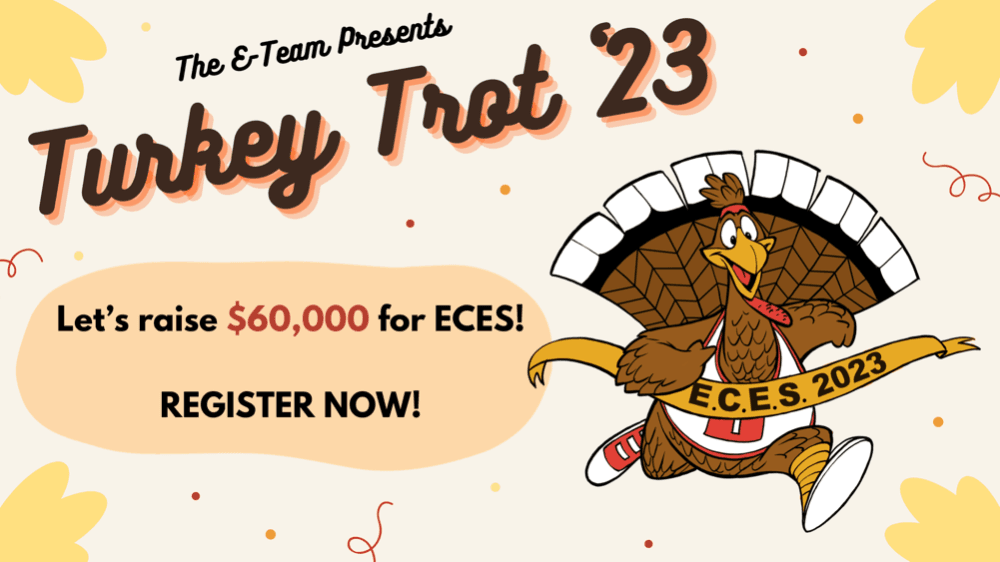 Visit our school Turkey Trot page HERE!
What is Turkey Trot?!
Turkey Trot is Encino Elementary's Fall fundraiser that raises money for our school and encourages students to be more active. Students raise funds via personal web pages on Get Movin' Fund Hub (instructions below) during the entire month of November. Then, on Friday, November 17th, the whole school participates in the Turkey Trot on our track on the big yard at school!
The money raised provides for E-Team programs like enrichment, library & tech supplies and most importantly, our PE, Art, and Computer teachers. 
It's free, easy, and fast to register! You will receive a Turkey Trot T-shirt just for registering! 
If you have more than one child, you are able to include them all under your account. They can still raise money separately. 
If you have registered in the past, you can login into your account and add "Turkey Trot 2023" and proceed to set up.
To promote your child's fundraising page and raise more, send your child's fundraising web page to friends and family! Post on Facebook/Instagram or other social media platforms. You'll be surprised when donations come in from distant friends and relatives!
Student Goals!
We need 100% student registration! Please visit www.getmovinfundhub.com today!
Each student is encouraged to raise $150
Be an Overachiever Superstar by raising $300
Our TOTAL SCHOOL GOAL is $60,000
Don't forget about corporate matching! Your employer may be able to double your donation!
Top Fundraiser Prizes!
1st Place - $200 Dave & Buster's Gift Card
2nd Place - Retrospec Bike
3rd Place - Six (6) UCLA vs. CSUN Basketball Tickets
4th Place - $50 The Stand Gift Card and $50 Dave & Buster's Gift Card
5th Place (4 Winners) - $50 Dave & Buster's Gift Card
Prize Levels (Individual-based)
Register (Free) - Turkey Trot T-shirt  
$25 - First of six Weepuls!
$50 - Second Weepul
$75 - Third Weepul
$100 - Fourth Weepul
$125 - Fifth Weepul
$150 (individual student goal) - Sixth Weepul and ECES hat
$300 - Harvest Squishmallow and free game at Corbin Bowl
Classroom Incentives
Top Earning Class Based off Classroom Percentage - Field trip to the park!
First Classroom to Reach Class Goal - Pizza party!
Classroom with the Most Participation - Dippin' Dots party!
School Incentives
Raise $10,000 - Pajama Day
Raise $20,000 - Dress up as your favorite movie character
Raise $30,000 - Dance Party at lunch - Mr. Rodriguez will DJ!
Raise $40,000 - Extra recess!
Raise $50,000 - Popsicle Party!
Raise $60,000 - Movie in the auditorium with popcorn!
Raise $70,000 - Top Earner from each Grade gets to silly string the Turkey!
School Incentive Timeline
The schedule of the incentives won is as follows.
Monday, 11/27 - Pajama Day
Tuesday, 11/28 - Dance Party at Lunch
Wednesday, 11/29 - Extra Recess
Thursday, 11/30 - Dress Up as Your Favorite Movie Character
Friday, 12/1 - Popsicle Party
TBD - Movie in Auditorium with Popcorn
Thank you to our amazing sponsors. This event would not be a success without your generous donations!