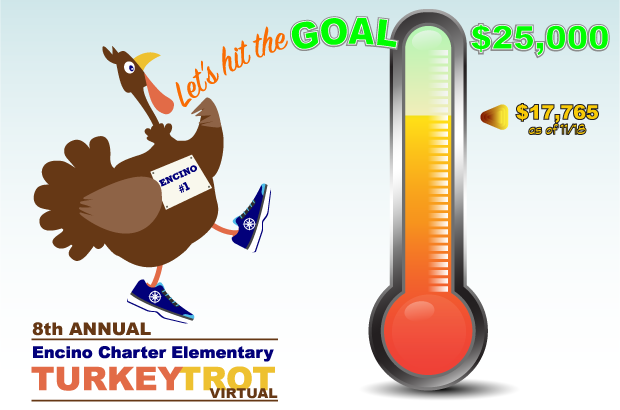 8th Annual (Virtual) TURKEY TROT - Registration is OPEN!
Are you ready to Get Movin' with Coach D'Mitri??? 
Our virtual Turkey Trot will take place this Thursday, November 19th with Coach D'Mitri!
The funds we raise help pay for various enrichment programs, as well as library & tech supplies. Most importantly, these vital funds will help us pay for our PE, Art, Computer and Science Teachers. These are critical parts of our children's education that aren't paid for by LAUSD due to federal, state and local district budget limits.
And in addition to learning about fitness and helping fund critical school programs, students are also eligible to win prizes for the $$$ they raise!
Prize Levels
Register + $50 = Large Bouncy Ball

$150 = Emoji Pillow
Top Fundraiser Prizes
1st - $250 Amazon Gift Card + Beats by Dre Ear plugs

2nd - $150 Visa Gift Card + Amazon Echo

3rd - $150 Visa Gift Card 

4th - $75 Visa Gift Card + Go Noodle Swag

5th - $75 Visa Gift Card
Classroom Incentives
*1st class to reach their class goal wins Menchie's Gift Cards!

*1st class to reach 100% participation wins Dunkin Donuts!
And if we reach our school goal of $25,000 A SURPRISE GUEST WILL GET SLIMED DURING MORNING ASSEMBLY!
It's free, easy and fast to register your child!
Visit www.getmovinfundhub.com - Our School Identifier is 5d79443e7071f 

Email and/or Text your student fundraising webpage to ALL friends and family for a donation for your child! 

Post a link to your fundraising page on Facebook or Instagram. The average parent has 300 FB friends. You'll be surprised when donations come in from distant relatives, friends, and co-workers. It costs nothing to post, and you might be surprised with the results. Post and see what happens!
Final donations are due 11/30 by 11:00 pm
Please email EncinoTurkeyTrot@gmail.com if you have any questions! Thank you for your support, and let's GET MOVIN'!