Join us Friday 8/13/2021 for TK/Kinder/New Student Orientation - Meet Greet and Play!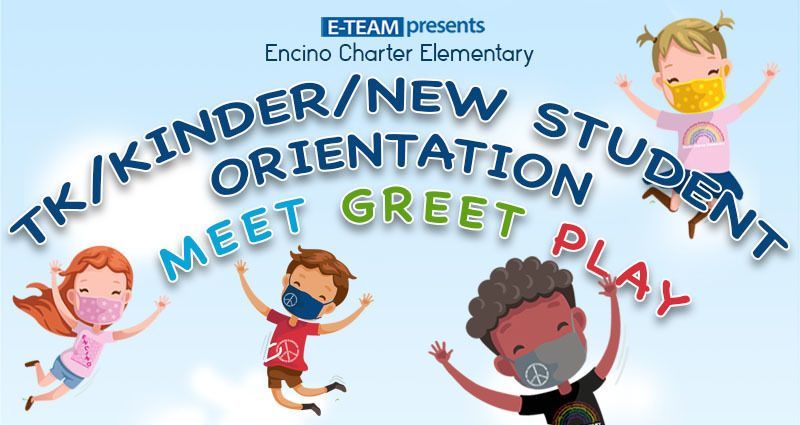 Friday, August 13, 2021 8:30am-10:30am  (8:15am check in/gates open)
Encino Charter Elementary - outdoor lunch pavilion
R.S.V.P by 8/9 --> Extended to 8/11
*Due to capacity limitations, we can only allow one parent per student, no siblings please.*
The E-Team (volunteer PTO non-profit board) welcomes the 2021-22 TK, Kinder and new students and families to visit our campus before the first day of school! Chat with our Interim Principal Ms. Choe and the E-Team Board to learn more about ECES.  Ms. Hermann will also be present to answer any questions for parents of English learners.   Students will participate in activities with P.E. Coach D'Mitri, so wear comfy clothes!
SAFETY PROTOCOLS
*Mandatory in order to enter campus*
• Mask required for all students and parents
• LAUSD Daily pass required for students
• Proof of negative Covid test within 7 days (or 72 hours if returning from out of state travel) required for parents
LAUSD Mobile Covid-19 testing for kids or LAUSD staff will be at our school site on 8/2  and 8/9 8:00am - 3:00pm. Or schedule your test appointment for parents & kids at dailypass.lausd.net