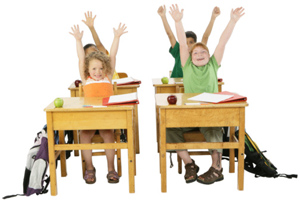 The E-TEAM provides the funds to pay for our art, physical education, science, and computer teachers, and our library aide.
Funds for these programs and many more come from various fundraisers organized by parent volunteers throughout the year. Additionally, the E-TEAM sponsors various services for our school such as Traffic Duty (carpool drop-off & crosswalk guards), Room Parent Coordination, Earthquake Preparedness, Campus Beautification and much, much more.
If you donated to Annual Giving this year, or participated in any of our various fundraisers, you may be wondering how that money was spent this year?? Every penny counts and gets invested in programs that aid student learning and safety at Encino Charter Elementary. This page gives you an overview of your dollars at work for the 2012-2013 school year. This past year we:
- Completely remodeled the computer lab, including new flooring, new tables and chairs that are ergonomically correct for children, new paint, and computer supplies. Total spent: $17,639
- Salary for our ETEAM teachers: science, art, physical education, computer, and after-school library. Total spent: $122,800
- Purchased new tables and chairs for the classrooms that are the correct size for the students using them. Total spent: $5,545
- Purchased a new sound portable sound system. Total spent: $2,431
- Purchased new PE equipment. Total spent: $1,275
- Purchased a new ELMO needed for one of our classrooms. Total spent: $1,250
- Purchased a new projector screen. Total spent: $372
- Purchased new white boards for the classrooms. Total spent: $2,578
- Purchased a new TV, TV stand, and DVD player (for those rainy days indoors!). Total spent: $1,409
- Remodeled the Science lab, including new floors (an inspection to make sure there was no asbestos), new tables and chairs, a cart and cabinets, and supplies. Total spent: $8,637
- Cleaned the carpets. Total spent: $300
- Much, much more, including Accelerated Reader program, school beautification projects, maintenance and fees associated with operating our ETEAM website, assemblies throughout the year (including Safely Ever After), author visits…
In addition to the activities above, the amount of money we maintain in our savings account qualifies us to apply for numerous grants. Below are the grants that our grant team (thank you Alicia Puppione and Cecily Lerner) applied for and were granted this past school year:
- City National Bank's Reading is the Way Up: $1,500 for 5th Grade Historical Fiction books
- Target grant for Reading Rocks: $2000 (decision pending)
Thank you to all our parents who donated this year. We look forward to your support next year in order to provide the same amazing programs to ALL our children next year. The ETEAM represents you, the parents, and we want to hear from you!