2019-2020 ETEAM PLEDGE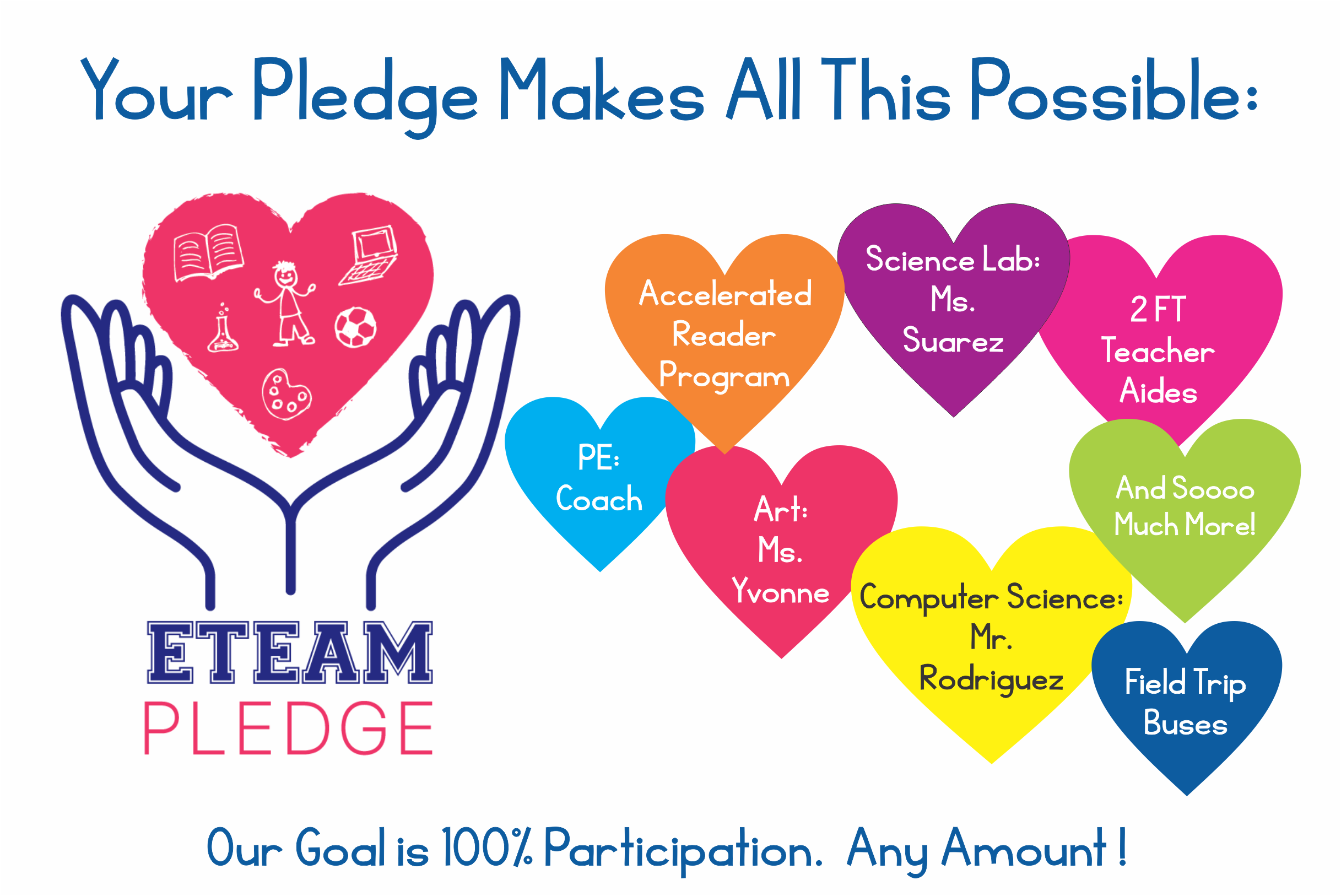 100% of your E-TEAM Pledge contributions go to fund our incredible PE, Computer, Art, and Science programs – as well as many other classroom improvements, supplies and equipment. The LAUSD doesn't have a budget for these types of "extras" – but we do! Additionally, when we request Grant money, the percentage of family participation in our Annual Giving program makes a BIG impact on the amounts that we can potentially receive.
The suggested donation is $500 per student - or about $2 per day for an entire year. Payments can be made in installments, and we offer incentives for larger donations. If you can give $500 or $1000, please do! Regardless of what you are able to give ANY and ALL donations make a difference. We only reach our full potential as a group when we all strive to give as much as possible as individuals.
---
Each tier includes all rewards from previous levels (excluding raffle entries).
Please email us at ETeamPledge@gmail.com with any questions.
Sponsor $100
Friend $500 
2 ECES Car Magnets

4 Dance Party Yeah! Tickets

4 Movie Night Tickets
Community $1000
"Friend" Level Benefits

ECES Spiritwear gift certificate

1 Yearbook

Raffle Entry for 2 Gala Tickets
Benefactor $1500
"Community" Level Benefits 

DPY Fun Pack (glow sticks, light-up accessories, tickets for food and games)

1 Personalized Yearbook

2 Gala Tickets
Leader $2000
"Benefactor" Level Benefits

2 Parent Party Tickets with pre-Gala Signup

Half-Page Yearbook Dedication
Explorer Extraordinaire $3000
"Leader" Level Benefits

Full-Page Yearbook Dedication

1 Enrichment Class (up to $120) for the 2019-2020 School year

Exclusive Parent Appreciation Party
Grad Pack (5th Grade Only) $800   
Pledge any tier above the Grad Pack level and receive the full benefits of both!
4 DPY Tickets and 4 Movie Night Tickets

Pali Camp ($375 value)

Grad Events ($100)

1 Personalized Yearbook and half-page dedication
1) Donor and Student Information