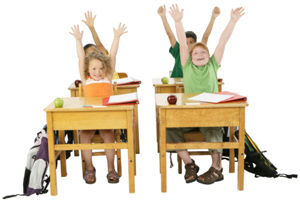 The E-TEAM provides the funds to cover educational programs including:
· Art with Ms. Yvonne
· Physical Education with Coach D'Mitri
· Science Lab with Ms. Suarez
· Computer Science with Mr. Rodriguez
· After School library with Ms. Cummings
· Two Full Time Teacher Aides to assist our full Teacher Staff throughout the day
In addition to covering our teacher's salaries, we also fund the materials and technology to support these programs. The E-TEAM also raises money to make capital improvements on our campus and in our classrooms. Additionally, we've raised enough money for grades K through 2nd to have at least 35 Ipads to share and of our grades 3 through 5 students to each have their own chromebook. This GREATLY assists our teaching staff on a daily basis, and even more so during our standardized testing windows.
Funds for these programs and many more come from various fundraisers organized by YOU, our parent volunteers throughout the year. Additionally, the E-TEAM sponsors various services for our school such as Traffic Duty (carpool drop-off & crosswalk guards), Room Parent Coordination, Earthquake Preparedness, Campus Beautification and much, much more.
If you've donated to the ETEAM Pledge program, or participated in any of our fundraisers, you may be wondering how the money is spent? Every penny counts and is invested in programs that directly aid student learning and safety at Encino Charter Elementary. The budgeting process takes place during the summer before the school year and is adjusted as needed throughout the year. Following is an overview of your dollars hard at work from last year's fundraising, which was spent throughout the year and over the summer into the early part of this school year:
- Salary for our ETEAM teachers for the 2017-2018 school year: science, art, physical education,
computer, and after-school library. Total spent: $129,305.
- Computer Lab upgrade with 36 new apple computers. Total spent: $18,361
- 50 new Ipads with 3 year warranty so K-2nd grade have reasonable amount to share between
classrooms: Total spent: $16,241.15
- Keyboard covers for upper grade Chromebooks: Total spent: $2,867.81
- 9 new Chromebooks with warranty for Grades 3 – 5: Total spent: $1,800
- Classroom projectors. Total spent: $1,177.92
- Purchase new PE equipment & Computer lab supplies, Science lab & Art Supplies. Total spent:
$4,072
- Newly installed library rug: Total spent: $1,100
- Field Trips: Total spent: $5,046
- Door latch to keep our kids safe after school entry. Total spent: $6,163
- Accelerated Reader program. Total spent: $8,791
- Much, much more, including school beautification projects, maintenance and fees associated with operating our ETEAM website, LAUSD permit costs for events, assemblies throughout the year, author visits…etc. etc.
In addition to the activities above, the amount of money we maintain in our savings account qualifies us to apply for numerous grants but WE NEED experienced grant writers to help us research and apply for money to assist our students.
Our Corporate Matching initiative further supplements our parent fundraising efforts. Please ask your employer if they have a corporate matching program. We can provide the necessary forms and tax ID information to assist you!
Thank you to all our parents who are able to donate and/or volunteer their time and expertise to help us reach our financial goals to keep these vital programs alive. We look forward to your support now and in the coming years to provide the same amazing programs to ALL our children for years to come. The ETEAM board represents you, the ETEAM parent community, and we want to hear from you!