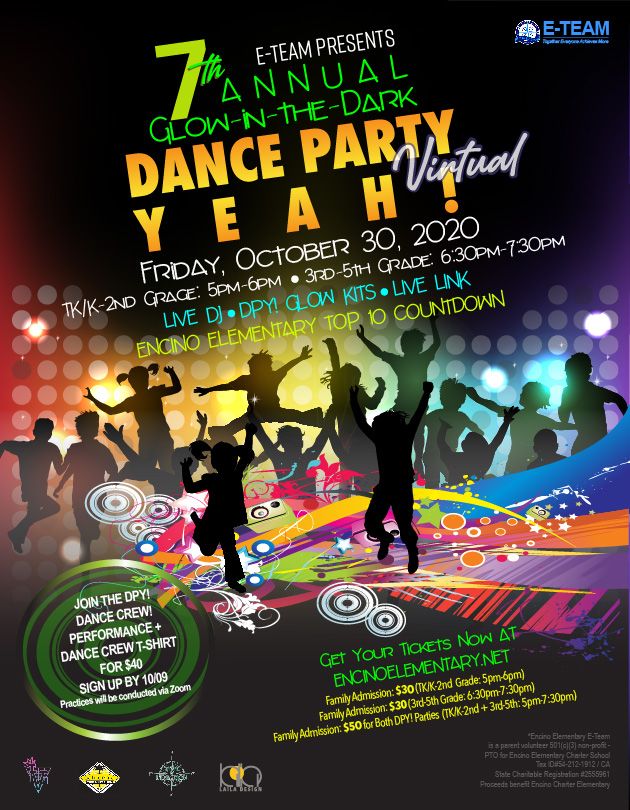 DPY! DANCE CREW SIGN-UPS ARE NOW CLOSED
What is the Dance Crew?
It is a chance to perform a fun dance for teachers, friends and family at Dance Party YEAH! Students will be taught a dance that will come together as a music video on the night of the DPY!
Who can join the Dance Crew?
Do you attend Encino Charter Elementary? Then you can join the DPY! Dance Crew! Boys and girls in grades K-5 are welcome to join - no dance experience necessary.
How much does it cost?
Cost is $40 and includes:
Zoom admission to your grade level's DPY! session 

3 Live Zoom Practices taught by a Releve Studio dance teacher (practice dates are listed below)

A video of DPY! dance routine from teacher included for unlimited and convenient practices

Exclusive custom DPY! Dance Crew T-shirt to wear during your performance

Prerecorded group performance to be played at both sessions of Dance Party YEAH!

Keepsake video of you and the dance crew doing your dance together for DPY!
When are rehearsals?
Rehearsals will be held on Fridays - 10/9, 10/16 & 10/23. 
3:00 - 4:00pm for grades K-2

4:30 - 5:30pm for grades 3-5
What if I can't make the rehearsal times?
No problem! There will be a video of the dance, and the first Zoom rehearsal will be recorded so that you can watch it on your schedule. Of course, it's best if you can attend live, but we understand that sometimes that just isn't possible.
Will there be costumes or uniforms?
Costumes will be a simple costume put together from the provided custom t-shirt and a certain colored bottom that you can choose from home.

Sign-ups ARE NOW CLOSED.